Earthworks & Excavation Contractors
North Shore & Auckland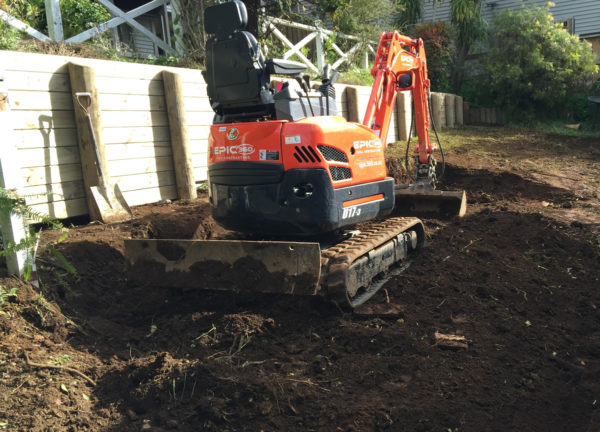 Epic360 are earthworks and excavation contractors based on the North Shore, Auckland. We can provide advice and assistance during pre-construction and on-going solutions for your plans and projects in Auckland and the North Shore. We combine technical knowledge with genuine care. Epic360 is one of the few companies utilising Bobcats on the North Shore.
Building site excavation

Your operator did a really good job.

John
Builder, Bayview
We do excavation the right way. Our methods are environmentally friendly and safe. From house site excavations, commercial and industrial site excavations, you can be sure that you are getting the highest quality service.
We have construction equipment available ranging from tracked bobcats, diggers and trucks through to rollers, augers for in-ground drilling and other earthmoving equipment. We have highly trained machine operators that work diligently and masterfully to ensure that you get the best results within the agreed project period.
Bulk Excavation, subsoil drainage and topsoil supply and spreading

Thank you for all the work, it looks great.

Jan
Church Board Member, Albany
Site clearing, including of scrub and rubbish even in tight access sites is one of our specialities. We also do site levelling, rock breaking, trenching, tree and stump removal, site clearing as well as hole boring and drilling on any sites including in less accessible sites.
We are your partners in ensuring the success of your earthwork projects.
Types of Earthworks We Offer
Residential site excavations
Topsoil delivery spreading and levelling
Commercial and industrial site excavations
Drain clearing
Trenching
Foundation pile hole drilling
Site levelling
Rock breaking
Site clearing (clearing of scrub and rubbish and removal off site)
Tree removal
Earthworks Services Auckland Wide:
Residential sites
Commercial and industrial sites
Road construction sites
We Deliver:
Free no commitment expert advice
An inspection of the site
A plan (we can also assist you in applying for a building consent)
Consistent communication from beginning to end of the project
A high quality output
Save